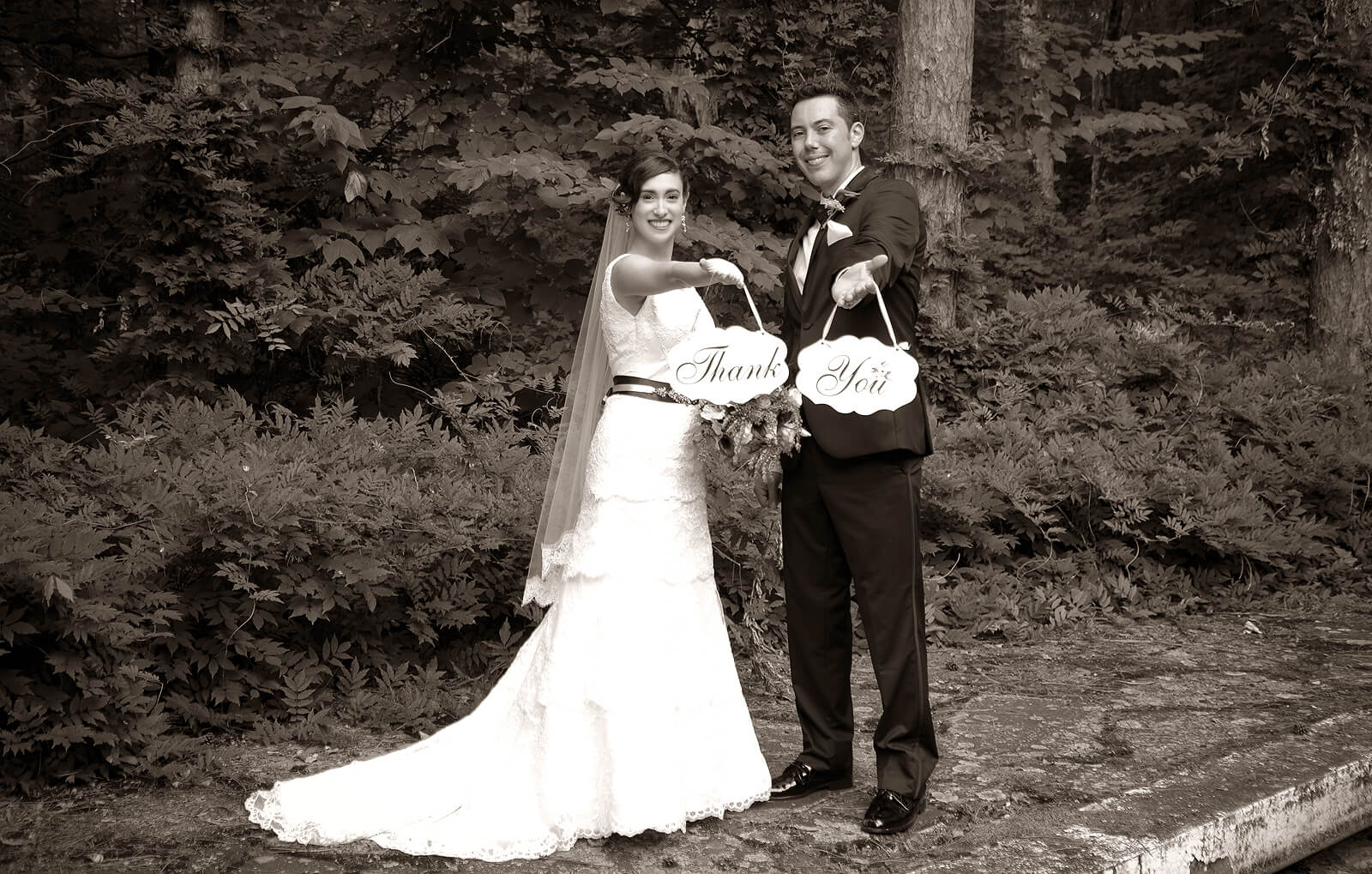 AMAZING PHOTOGRAPHS – JUST PERFECT!!
We were lucky enough to have Jean Kallina photograph our wedding this fall and we couldn't be more grateful that we did. Jean is an artist without an imposing ego. She is graceful, diligent, and has an extraordinary vision for capturing not only the beautiful but also the meaningful. In addition to making us look our best, she captured who we are as a couple. Almost all of our pictures are keepsakes! Jean was reliable, patient, responsive, and extremely professional and kept a positive, calm demeanor over the course of our wedding day. If we ever have another event to capture in our lives, Jean will be the first person we call.
Anna & Marc
A REAL ARTIST – NOT JUST WEDDING PHOTOS BUT WORKS OF ART!   
Jean and her assistant photographed our wedding this summer and did a remarkable job. We were planning the wedding long distance, and only got to speak on the phone before the wedding. But the day of, I had confidence that she would create beautiful photos, and she did! They are truly so artistic and unlike any wedding photographs I have ever seen. She gave me exactly what I was looking for. I had a very rustic wedding but I still wanted everything to look beautiful and romantic. And it does! We could not be happier!
Jan and Lisa
PERFECTION WE ARE THRILLED!
I hired Jean for my May 2018 Hudson Valley wedding. We were married in a Catholic church and then held a reception on a family farm inside a tent. All of the photographs came out beautifully. Jean was easy to work with, her assistant was a lot of fun and did a great job corralling the ring bearers/flower girls for group photos, they were not in the way at all during the day/didn't feel like we were being paparazzi stalked at our reception and I thought her prices were extremely reasonable given quality of service and location. Also her Instagram is really awesome, so you know she's passionate about taking good photographs even when she's not on the clock. I would definitely recommend!
Kate and Chad
CAPTURING MEMORIES THAT WILL LAST A LIFETIME   
We couldn't have picked a better photographer for our wedding – Jean Kallina was an outstanding choice. From the initial planning phases to the last dance she was always available to answer our questions and give us advice on how to preserve our event in pictures. Her style is quiet and unassuming yet she and her staff were ever present taking hundreds of photos – at both the rehearsal and the wedding – capturing all the excitement and enthusiasm of our wedding weekend. Her skill and creativity was evident in the formal pictures, the candid's and all the little detail shots she took throughout the event. Her understanding of color and perspective enabled her to create fantastic photographs – pictures that, over the years, will send us right back to that lovely summer weekend in August. She didn't miss a detail and for that we are truly grateful.
Ian and Indea
LOVE OUR PHOTOGRAPHS
I cannot recommend Jean Kallina enough! Our photos came out absolutely spectacular. When planning a wedding you begin to realize how ridiculously expensive every little thing can be. While Jean's cost is competitive and on par with other photographers in the area, we considered going cheap on a photographer or even having a friend take pictures for us. We are so glad that we didn't go down that route. Having these amazing photos to look back on is absolutely priceless. We had the best day of our lives but it went by so fast and there were moments that we missed all together. Her photos captured the spirit of our wedding perfectly. She was extremely unobtrusive which we loved, but she somehow captured every amazing moment at the same time. We've gone to weddings where there is a videographer with a bright light shining in your face or photographers blocking your view of the bride and groom or getting right in the middle of your group making your feel uncomfortable and the pictures look unnatural. Jean's presence allowed such natural photos to be taken and everyone just looked like they were having fun in the moment rather than posing for pictures. She has an amazing eye for detail and every picture came out truly beautifully. We highly recommend not skimping on a photographer and we highly recommend Jean!
KATHRYN AND MARK
AMAZING PHOTOGRAPHER   
Jean photographed our wedding on April 13, 2017 at The Garrison. She was a pleasure to work with and captured our wedding in some stunning photographs. The challenge will be selecting which ones to feature in our album and in frames around our home – because they are all natural, warm and elegant. Jean also shot our engagement photo shoot in Cold Spring, NY – which was another wonderful experience that yielded great photos. Thank you Jean!
Leyla and William
EMOTIONS CAPTURED FOR ETERNITY   
I discovered Jean Kallina's photography via the web. I took one look at her breathtaking cinematic photography and fell in love. Jean is truly an artist. Every time I look through my wedding pictures-not only am I staring at beautiful images but I feel like I am reliving the moment. Jean has a way of capturing your emotions and saving them eternally in an image. On our wedding day, she was organized, never obtrusive and a pleasure to work with. She had my images ready by the time I had arrived home from my honeymoon. I highly recommend her.
Sindy and Fernando
PERFECT PHOTOS!!
If you are looking for a photographer who is not only exceptionally talented in her own right, but who will capture the 'moments' of your day, you are looking for Jean. Jean is organized, has a high quality of work and work ethic in getting photographs edited and organized, efficient with her time, and takes care in capturing the big 'picture' and the details as well. It was a pleasure to work with her on my day. I am so lucky to have found such a wonderful and talented photographer who not only documented my wedding thoroughly from start to finish, but who I really enjoyed having with me as my photographer for such an important day for me. Jean's expertise in photography in a variety of settings was remarkable as we started for our First Look photos in a garden, had the ceremony in a church, a horse-drawn-carriage in the sunny afternoon, and an evening venue at the Beekman Arms Inn. I will treasure the photographs Jean took forever!
Maria and Chris
TOP NOTCH PHOTOGRAPHY, WONDERFUL TO WORK WITH!   
I was married at Caramoor in the Hudson Valley. My husband and I were incredibly fortunate to have had Jean Kallina document our special day. Her photographs were truly elegant and captured the emotions of the day perfectly. It was important to me that my photographers capture the natural beauty of my venue and Jean really delivered. She also worked with us on a really fun engagement session, which I highly recommend to other brides. Jean is truly an artist with amazing talent, and a very nice person! She is not only knowledgeable about her craft, but also responsive to any questions along the way and very easy to work with. The value of her work cannot be beat when you see the quality in the end product. Some words my family used to describe Jean's pictures were "magnificent", "stunning" and "astonishing", and those are perfect adjectives. Do not hesitate to book Jean for your wedding. She has my wholehearted recommendation!
Lauren
OUR DAY WAS CAPTURED PERFECTLY   
To Jean Kallina, each photograph she takes is a work of art. Through her sensitivity, she knows how to make an event personal and memorable. Everything around her is viewed as potential – a vase of flowers on the table, a joyous dinner reflected through an antique mirror on the wall during dinner. Jean captured our day even more beautifully than we remember it. We LOVE our photographs, and can not recommend her highly enough. Her work was far superior to other work that we saw, and she was such a pleasure to have there on our wedding day. Hiring her was the best decision that we made in regards to our wedding.
Rodney and Tony